Rendez Vous Bay – das mag jetzt beim ersten Mal lesen übertrieben romantisch klingen. In der Tat kann es das sein, muss es aber nicht.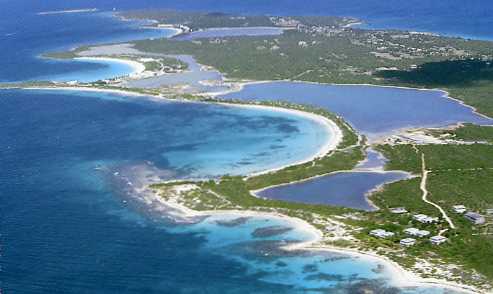 Die Bucht auf Anguilla ist mit einem vier Kilometer langen Strand aus wunderbar weißem Sand gesegnet. Auf dem Bild an der Seite ist gerade noch das letzte Ende der Bucht zu sehen. Während beim laufen in leichter, topmodischer Badebekleidung die Füße im besagten weißen Sand versinken kann man übers türkisblaue Meer bis nach St. Martin sehen und den Anblick dieser extrem schönen Insel genießen.
Ein typischer ausgedehnter Spaziergang könnte folgendermaßen aussehen: Kurz vor Sonnenuntergang startet man am Anguilla Hotel Cuisin Art Resort, einem extrem noblen Schuppen mit kleinen Villas und Parkanlagen. Von dort geht man in Richtung Osten. Hier bekommt man – wir sind ja ein akademischer Seglerverein und immer für Bildung offen – direkt ein bisschen "Kultur" mit, denn man läuft am Rendezvouz Bay Hotel vorbei. Dies ist das älteste Hotel der Insel und wurde 1962 von Jeremiah Gumbs gegründet. Herr Gumbs sorgte in den 60er Jahren dafür, dass Anguilla eine eigenständige Regierung bekam und dadurch unabhängiger von England wurde. Wen das genauer interessiert, der kann hier weiterlesen. An der Bar des Hotels könnte man einen kleinen Abend-Snack und einen Rum Punsch genießen, bevor man sich auf den Weg in Richtung Westen macht.
An diesem Teil des Strandes ist es etwas unruhiger.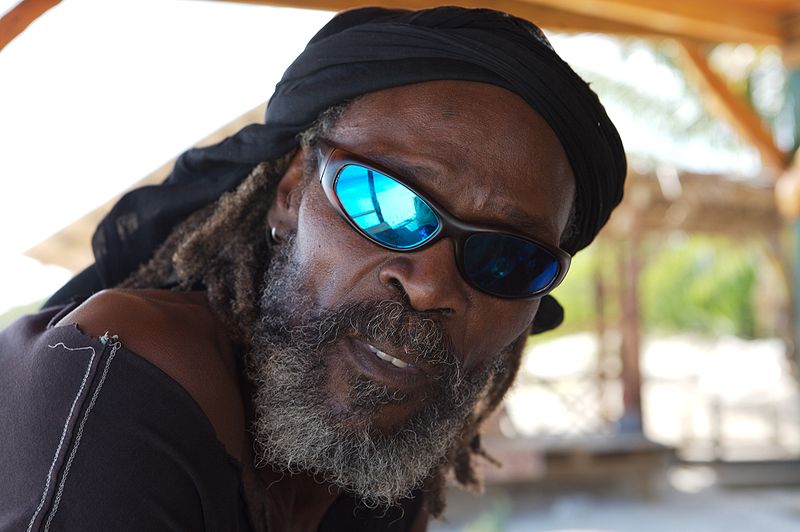 Das könnte an einer Location liegen, die auf jeden Fall einen Blick wert sein soll. Das Dune Preserve von Reggae Legende Bankie Banx (auf dem Bild rechts zu sehen), welches laut ELLE Magazine U.K. "The Region´s most artistically electic beach bar" ist. Er selber hängt dort mit seinem Kumpel Bullett rum, macht Musik und schmeißt die Bar. Auf der Homepage werden drei Dinge genannt, die man dort auf jeden Fall tun sollte:
Watch the most breathtaking Sunset ever
Argue global economic policy with Bankie
Learn to build a boat with Bullett
Mal schauen, ob wir das alles hinbekommen. Es klingt zumindest schonmal interessant.
Nach ein paar Bier oder Cocktails kann man sich nun auf den Weg nach Hause machen und die funkelnden Lichter von St. Martin im Mondschein bewundern. – Viel Spaß dabei!
Einige Informationen für diesen Artikel kommen von dieser Homepage. Wie ich bei weiterem durchlesen festgestellt habe ist sie extrem informativ und ich kann sie nur empfehlen!