von Kay Bonow
Wenn wir dann mal an Land statt auf See sind, werde ich mich unter eine Palme setzen und James Bond lesen. Ah, sagt Ihr, ganz Fan und informiert: "Feuerball" auf den Bahamas, "Leben und Sterben lassen" auf Jamaica und "James Bond jagt Dr. No" auf Crab Key.
Nee, Leute, ich will James Bond lesen, nicht Ian Fleming. Man soll ja unterwegs tun, was man zuhause nicht kann. Also: James Bond war erstmal Ornitholge und arbeitete nicht im Geheimdienst ihrer Majestät sondern für die Naturwissenschaftliche Akademie der Stadt Philadelphia in den USA. 1936 hat er das Standardwerk über die Vogelwelt der Karibik veröffentlicht, "Birds of the West Indies" und das Buch gibt's heute noch, nach zig Auflagen. Genau das werde ich mir zu Weihnachten 2012 schenken lassen und mich später damit unter eine Palme setzen. Während Ihr zuhause der Tannenmeise an ihrem Knödel am Fichtenast beim frieren zuguckt, werde ich versuchen, bei meiner Palme einen Glattschnabelani zu finden.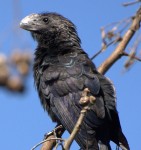 Häh? Genau! Klingt exotisch, ist aber in halb Lateinamerika, der Karibik und bis nach Florida weit verbreitet. Ich habe nämlich eigentlich gar keine Ahnung von Ornithologie, also fange ich mal einfach an. Foto liegt bei und ich darf's verwenden, wenn ich den Autoren nenne (Dario Sanches aus Sao Paulo) und unter welchen Bedingungen das weiterverwendet werden darf, steht genau in der deutschen Wikipedia beim Foto vom Glattschnabelani. Flup. So einfach ist Internet.
Eigenes Foto nach der Reise, damit darf ich dann machen, was ich will. Und wie ich so unter meiner Palme sitze, entdecke ich dann vielleicht auch auch noch den einen oder anderen Vogel mehr. Welchen, weiß ich nicht, ich hab' ja weder das Buch noch die Palme und in der Karibik bin ich auch nicht. Noch nicht.
Abschließend wäre dann noch anzumerken, dass Ian Fleming den Namen für 007 beim
Ornithologen abgekupfert hat. Leider hat sich der Agent auf keiner der Inseln herumgetrieben, die wir mit dem Peter besuchen werden – Spionagethriller entfallen also.
Nachdem das nun geklärt ist, setze ich mich lieber doch ein paar Meter neben die Palme, damit mir beim Lesen keine Kokosnuss auf den Kopf fällt. Angeblich fordert das mehr Todesopfer als der Karibische Riffhai. Aber das ist beides eine andere Geschichte.